Richard Taylor
---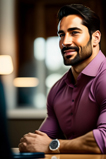 Richard Taylor
Richard Taylor is a tech-savvy journalist and consultant from the United Kingdom. He holds a degree in Computer Science from the University of Birmingham and has a passion for all things tech. With his in-depth knowledge and years of experience, Richard is a trusted source of information for anyone interested in smartphones and technology.
His commitment to staying up-to-date on the latest developments in the industry, combined with his technical expertise, make him a valuable contributor to any discussion about smartphones and technology. Whether you're a tech enthusiast, a smartphone user, or just looking for reliable information, Richard's writing is sure to provide valuable insights and help you stay informed about the latest trends and advancements.
As a consultant for several leading tech companies, Richard has a unique perspective on the industry and provides insightful analysis of the latest smartphones and technology products. He writes detailed reviews and provides an in-depth look at the latest tech specs, ensuring that readers have all the information they need to make informed decisions.
Richard's passion for technology and commitment to providing accurate and up-to-date information make him a valuable resource for anyone looking to stay informed about the latest developments in the tech industry.
---
New models added by Richard Taylor
---
New reviews added by Richard Taylor