About Us
Welcome to Phonesdata.com - your source for everything smartphone and technology related. Established in 2012, our mission has always been to provide reliable and comprehensive information to technology enthusiasts and smartphone users.
With a passion for smartphones and new technology, our founder, Patrick Parker, started this website as a hobby and over the years it has grown into a global brand trusted by millions of users around the world. Our team of experienced technology experts and enthusiasts work hard to bring you the latest information on smartphone features, specifications and industry trends.
We believe in providing high-quality content that is both informative and easy to understand. Our reviews and articles are written to provide in-depth analysis of the latest smartphones, including their technical specifications and actual performance. Our team strives to ensure that our content is unbiased and honest so that you can make an informed decision when purchasing your next smartphone.
Thank you for choosing Phonesdata.com as your go-to source for everything smartphone and technology related. We look forward to continuing to serve you with the latest and greatest in the world of technology.
Patrick Parker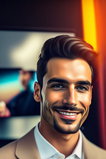 Meet Patrick Parker, CEO of world-renowned smartphone and technology website Phonesdata. With a passion for smartphones and all things tech, Patrick started the site as a hobby in 2012. Over the years, he has dedicated himself to growing the brand and establishing it as a trusted and reliable source of information for tech enthusiasts around the world.
Email: patrick@phonesdata.com
Meet the Phonesdata team
Contacts
124 City Road, EC1V 2NX
London, United Kingdom
Phone: +447418358546
Email:
office@phonesdata.com