Intro
With a slight delay in 2020, Apple introduced its new iPhones, whose extended lineup includes four variants, including Pro, Pro Max and Mini. Now, however, we will talk about the base model iPhone 12, in the face of which fans of the brand expected to see serious changes, but perhaps there are none. On the other hand, there are a lot of interesting solutions.
Before reading the full review, you can familiarize yourself with the detailed Apple iPhone 12 specs or watch the video below the article.
Specifications
Release date: 2020, October 13
Colors: Black, White, Red, Green, Blue
Dimensions: 146.7 x 71.5 x 7.4 mm.
Weight: 164 g.
Screen: 6.1" inc, 1170 x 2532, Super Retina XDR OLED
Camera : Dual, 12MP
Chipset: Apple A14 Bionic (5 nm)
CPU: Hexa-core (2x3.1 GHz Firestorm + 4x1.8 GHz Icestorm)
Memory: 64GB 4GB RAM, 128GB 4GB RAM, 256GB 4GB RAM
Battery: 2815, Li-Ion, non-removable
Network: GSM / CDMA / HSPA / EVDO / LTE / 5G
Operating system: iOS 14.1
Sensors: Face ID, accelerometer, gyro, proximity, compass, barometer
Design
In the iPhone 12 we see a new design, which is a return to the success of the style of the iPhone 4 and iPhone 5. A curious moment in this year's smartphones is the change from LCD to OLED. In addition, Apple offers a new Apple Bionic A14 chipset, implemented in a 5-nm process, 5G networks and improved camera performance.
The new iPhone is not only convenient to use, but will be less likely to be damaged. Its construction has been improved, as ceramic particles are built into the glass of the front panel, the company assures, adding that it is now 4 times stronger.
The color solutions of the iPhone 12 are five: black, white, red, green and blue.
Display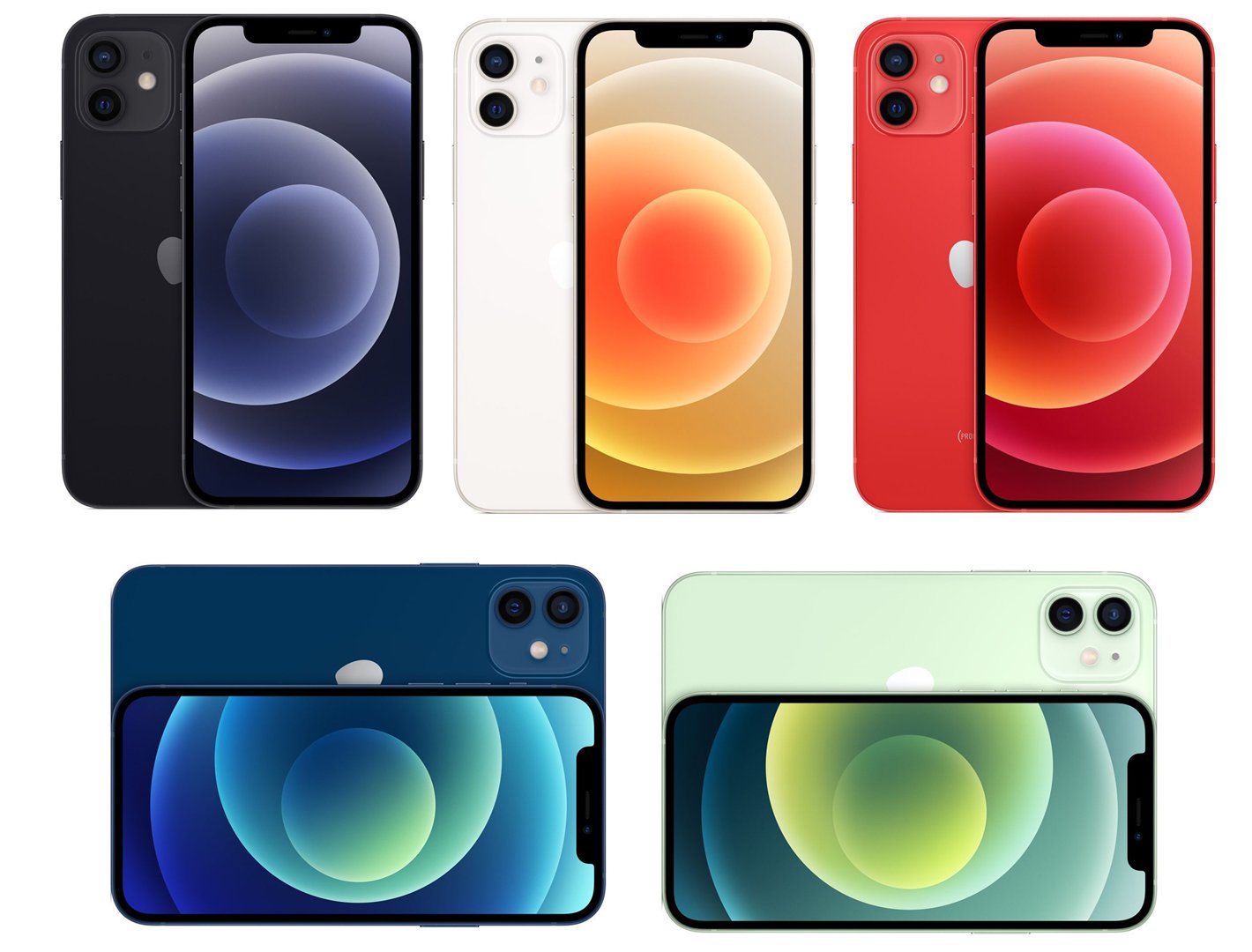 iPhone 12 is equipped with an OLED panel with the same diagonal as its predecessor iPhone 11 - 6.1 inches. The resolution is higher: 2532x1170 pixels, so the pixel density is 460 per inch (Retina XDR). The picture is really impressive.
Productivity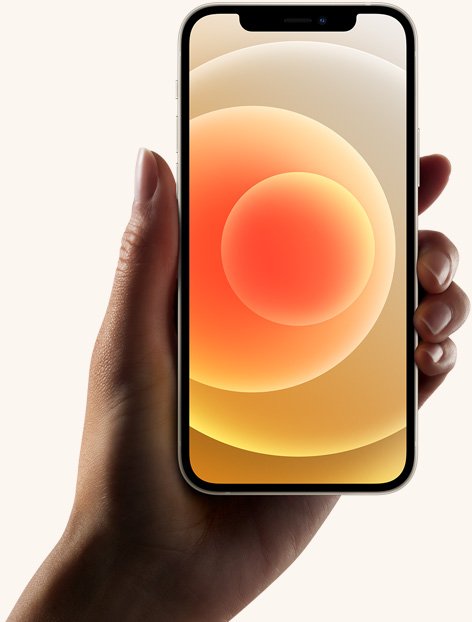 Traditionally, Apple sets a new benchmark for performance in the smartphone industry every fall. This year things are the same. The company introduced the Apple A14 Bionic, which is made by a 5-nm process. The platform consists of 6 processor cores - 2 × Lightning + 4 × Icestorm, and the graphics subsystem is Apple GPU which is 4 cores with support for Metal 2 technology. The 16 cores Neural Engine, is fourth-generation system, which is tasked with using neural networks.
The smartphone is available in several versions depending on the internal and RAM: 64 GB / 4GB, 128GB / 4GB and 256 GB / 4GB. Possibility to insert a memory card is not provided.
Cameras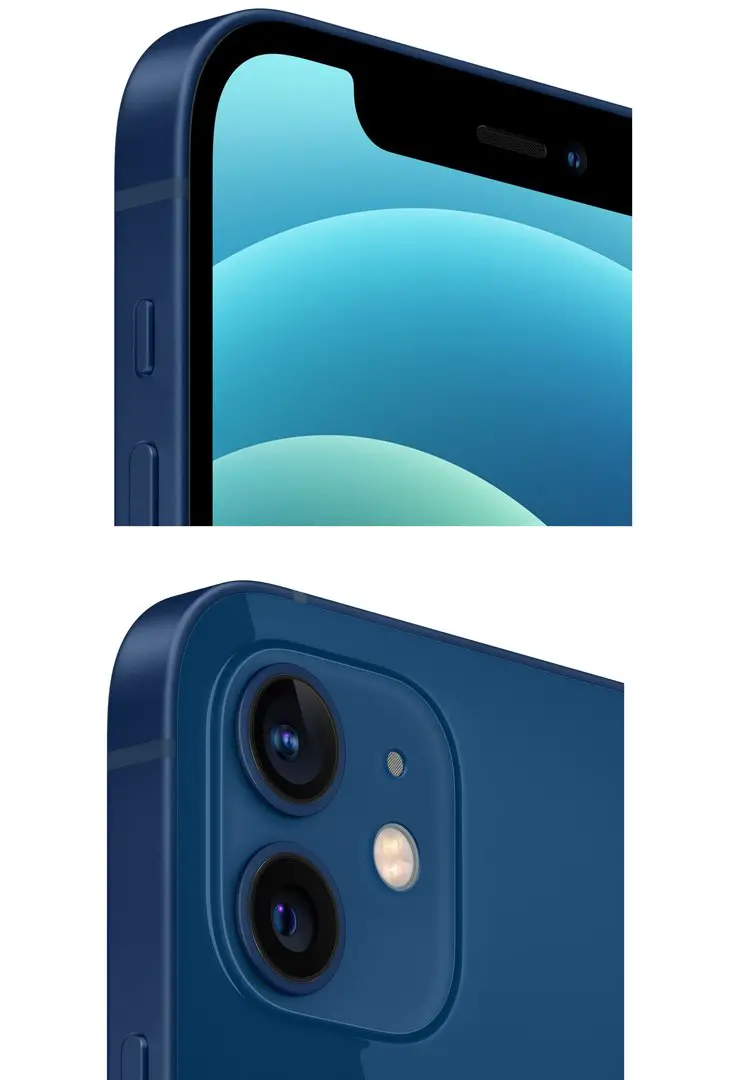 Apple iPhone 12 has received a block of cameras that is similar to the one we know from its predecessor. The rear panel of the device has two cameras - main and wide angle. They have kept their sensors, which are 12 MP each, and the light sensitivity is 1.4 μm and 1.0 μm, respectively. The main camera has phase autofocus, while the wide-angle camera has no autofocus. While maintaining the focal length and the optical stabilizer, the new main camera has a higher light sensitivity - ƒ / 1.6.
Photo quality with the Apple iPhone 12 is slightly better than with the iPhone 11. The new auxiliary processor, which works with neural calculations, contributes to this. The end result is more balanced shades and light in the photos. Night shots are perfect with both the main camera and the wide angle.
The portrait mode is slightly changed. The absence of a telephoto camera limits its use. However, the close-up photos are perfect. The camera has a mode for quality background blur. Selfies, even in the absence of enough light, will also make you happy.
If you like to shoot videos, iPhone 12 allows you to make videos with a resolution of up to 4K at a frequency of up to 60 frames per second. Digital stabilization works at any resolution and frequency. It is possible to record in HDR format with conversion to Dolby Vision HDR.
Autonomous work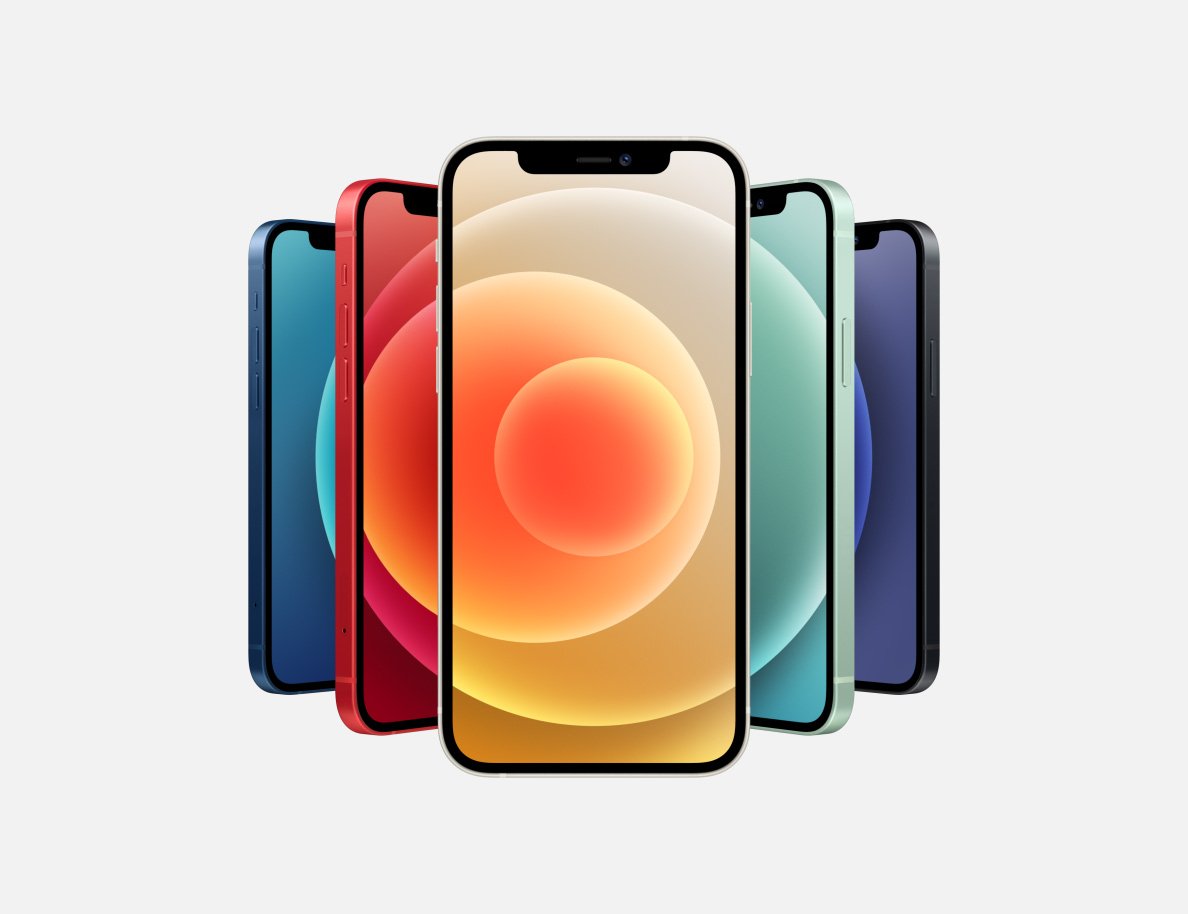 The iPhone 12 is based on a non-removable lithium-ion battery with a capacity of 2815 mAh. Compared to many Android models, this figure seems inadequate. There is no room for concern. Apple has made sure the end result is good. This is partly helped by the OLED display, which greatly reduces power consumption, especially if you use a dark theme and True Tone.
The well-optimized system contributes to the excellent battery life of the iPhone 12. In extreme loads, the battery discharges faster, but will provide you with at least 7-8 hours, which is a normal indicator to date.
Conclusion
iPhone 12 is a wonderful model that can be yours at a more affordable price compared to other modifications in the series.
Pros
Powerful and energy efficient platform
Superb screen
Excellent design and ergonomics
It is protected against moisture
It has a perfect main camera
Shoots excellent quality videos
Cons
Disadvantages of this iPhone include the lack of headphones, audio jack and adapter for it, the smartphone has a huge notch, no charger in the kit and its display does not support high-frequency refresh. Face ID technology doesn't work if you're wearing a mask and you don't have a fingerprint scanner.
Apple iPhone 12 video review
Disclaimer: The information presented in this article is based on our team's personal experience with the Apple iPhone 12 and third-party sources. While every effort has been made to provide accurate and reliable information, readers should keep in mind that this is a subjective assessment. The writing of this article was not paid for or sponsored by Apple.