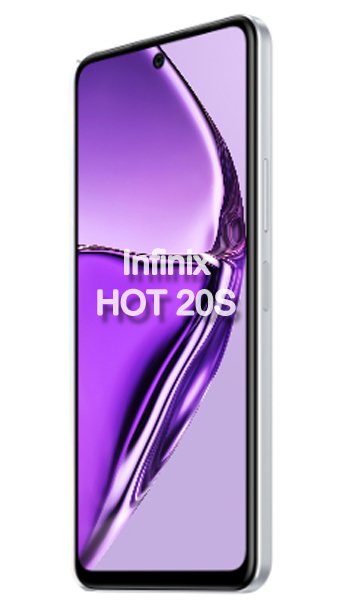 Intro
I recently got my hands on an Infinix Hot 20S and I have to say I was quite impressed with the specs it offered, especially at such an affordable price. On paper, the Hot 20S really looked like a great deal, with its fast and expansive screen, gaming-centric processor, attractive design, sharp cameras, and powerful battery. But, as we all know, specs alone don't guarantee an exceptional smartphone experience. So after using the Hot 20S for a while, I decided to record my thoughts and share my experience in this review. Let's dive into it and see if Infinix has hit the mark with its latest budget offering.
Before reading the full review, you can familiarize yourself with the detailed Infinix Hot 20S specs or watch the video below the article.
Specifications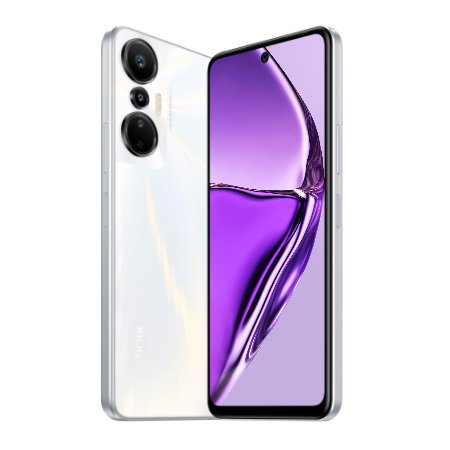 Release date: 2022, October 13
Colors: Sonic Black, Tempo Blue, Fantasy Purple, Light-rider White (Neon Edition)
Dimensions: 168.7 x 76.8 x 8.5 mm.
Weight: 202 g.
Screen: 6.78" inc, 1080 x 2460, IPS LCD
Camera : Triple, 50MP
Chipset: Mediatek MT6781 Helio G96 (12 nm)
CPU: Octa-core (2x2.05 GHz Cortex-A76 & 6x2.0 GHz Cortex-A55)
Memory: 128GB 8GB RAM
Battery: 5000, Li-Po, non-removable
Network: GSM / HSPA / LTE
Operating system: Android 12, XOS 12
Sensors: Fingerprint (side-mounted), accelerometer, proximity, compass
Design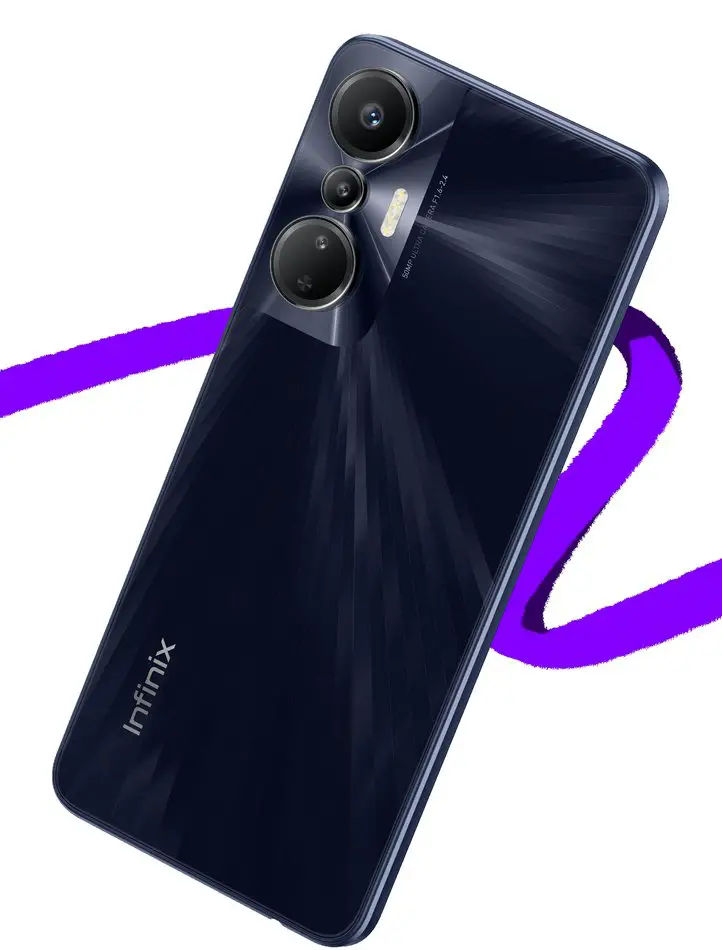 While holding the Infinix Hot 20S in Sonic Black, I can't help but appreciate the sleek and stylish design. The glossy glass surface may be made of plastic, but the sunray-like pattern that responds to light is a unique touch that makes the device stand out. The camera area, with its two large circles and one small one, gives off a subtle yet sophisticated look that I like.
While the boxy design may not appeal to everyone, the beveled edges provide a nice sense of comfort in the hand. However, the device feels quite large and heavy, which may take some getting used to. Fortunately, the transparent case that comes with the phone not only provides protection but also a better grip.
On the left side is the hybrid SIM card slot and on the right side are the volume control buttons and the fingerprint scanner, which also serves as the lock/power button. The controls are satisfyingly pleasant to the touch, and the flat power button does its job well.
With a star-shaped back panel design and a unique camera module, the Infinix Hot 20S definitely sets itself apart from its predecessors and other entry-level phones. The stereo with a unique headphone speaker is an added bonus.
Overall, I'm impressed with the sturdy and solid build of the Hot 20S, as well as Infinix's attention to detail in creating an aesthetically pleasing device without resorting to fancy patterns.
Camera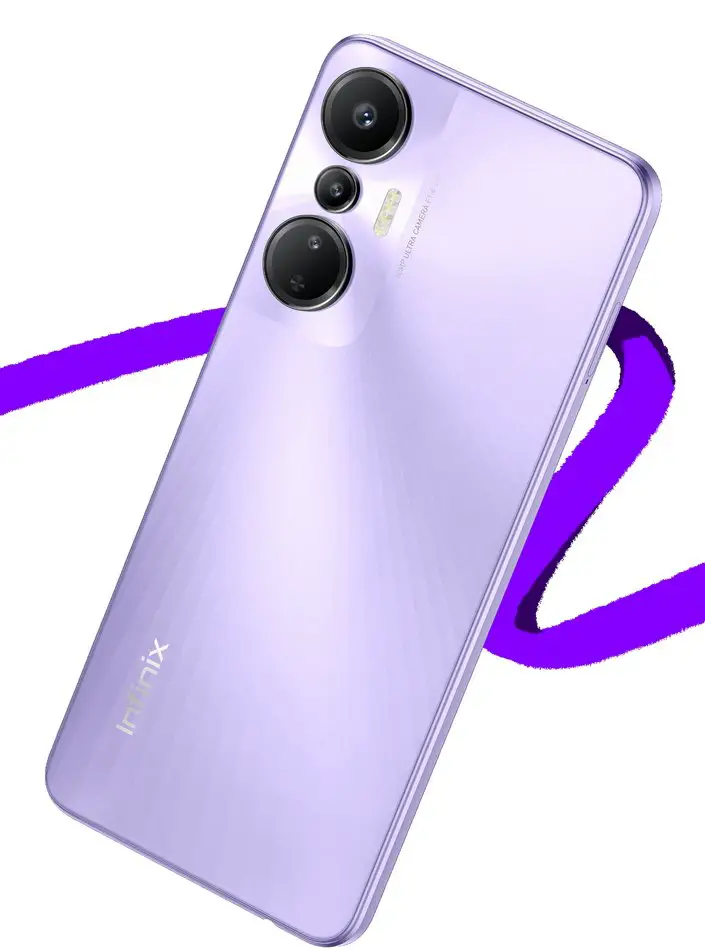 When it comes to the camera on the Infinix Hot 20S, I have to say I have mixed feelings. On the one hand, I was impressed with the sharpness and detail of the images taken with the 50-megapixel main camera. Even the low-light shots turned out surprisingly good, especially when using the night mode. However, the colours look a bit fuzzy and the contrast could be better.
On the other hand, the 8-megapixel selfie camera left something to be desired. Skin tones seemed inadequate, and sharpness was lacking. Although not the best option, it can still be used for casual photos and video calls.
Overall, I think the HOT 20S takes decent pictures for its price. In fact, I was pleased to see that Infinix has made an effort to improve the camera performance over its predecessor, especially when shooting in low light. However, I wish it had an ultra-wide camera for even more versatility.
As for video, the resolution of 1440p is a nice addition and it looks like video performance has improved over the HOT 11S. However, it lacks stabilization.
Overall, while the Infinix Hot 20S's camera may not be the best out there, it provides decent performance for its price.
Display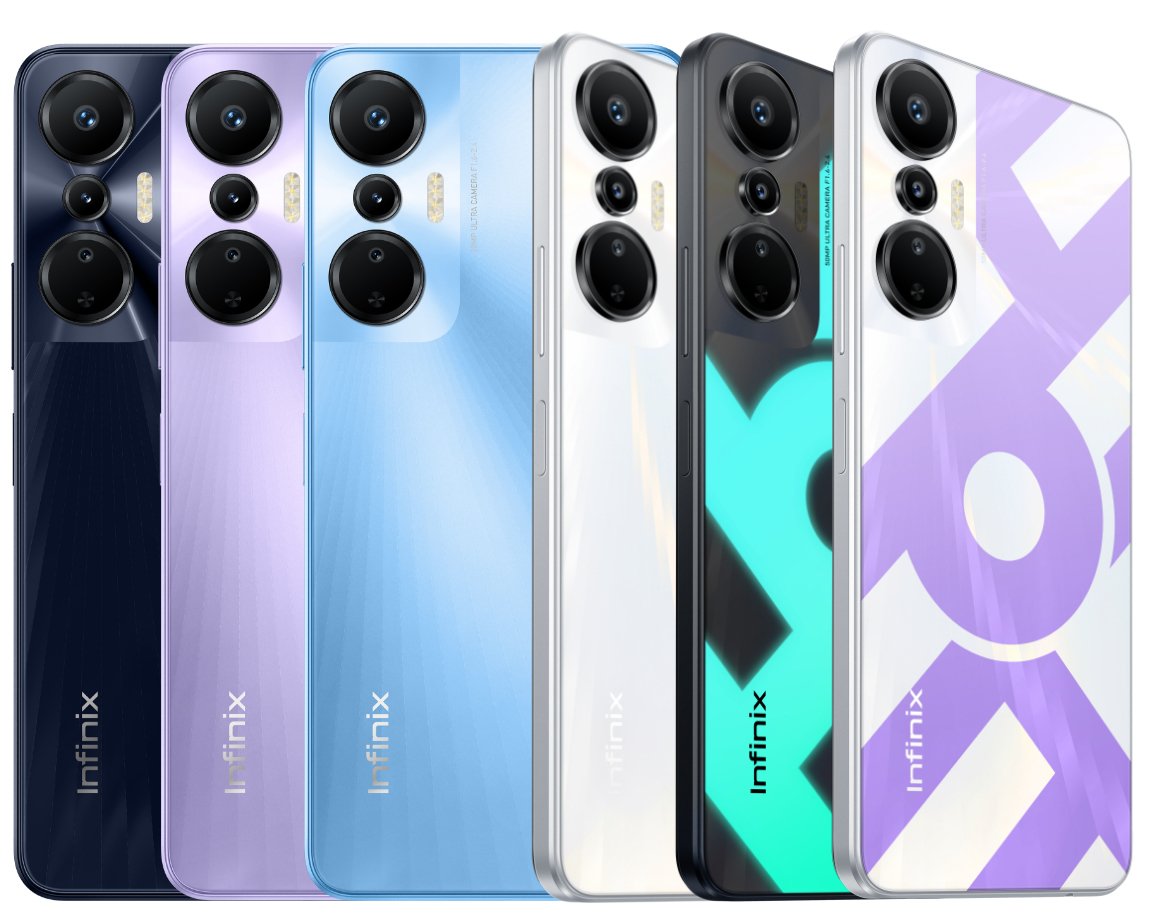 The 6.78-inch FHD+ IPS panel offers good quality with nice colors and contrast. The large screen size also makes content and games more immersive and gives more space for multitasking and reading.
Although the 120Hz refresh rate is touted as an advantage, I personally didn't notice much difference. Perhaps due to the mid-range chip, the display doesn't feel particularly smooth. I've seen flagship phones with more powerful chipsets that are noticeably smoother, even with just 90Hz panels.
The dual speakers are a strong point though. They may not be the loudest, but they are audible enough and provide crisp stereo separation. Having a large screen means the speakers are separated well enough, making for a more enjoyable audio experience.
I appreciate the fact that Infinix is pushing the boundaries with affordable price to spec ratios. The 120Hz display is impressive, but it has its flaws. Although the IPS panel colors are decent, the automatic brightness adjustment can be fickle, often requiring manual adjustment. This is especially noticeable when playing games, where the display tends to be less bright than expected.
Overall, the Infinix Hot 20S's display is on the strong side, with good colors and contrast and a large size that makes for an immersive experience. However, the 120Hz refresh rate may not be noticeable to everyone, and the auto brightness setting can be a little fickle. Dual speakers are a plus, making it a worthy choice for those who don't want to use headphones.
Performance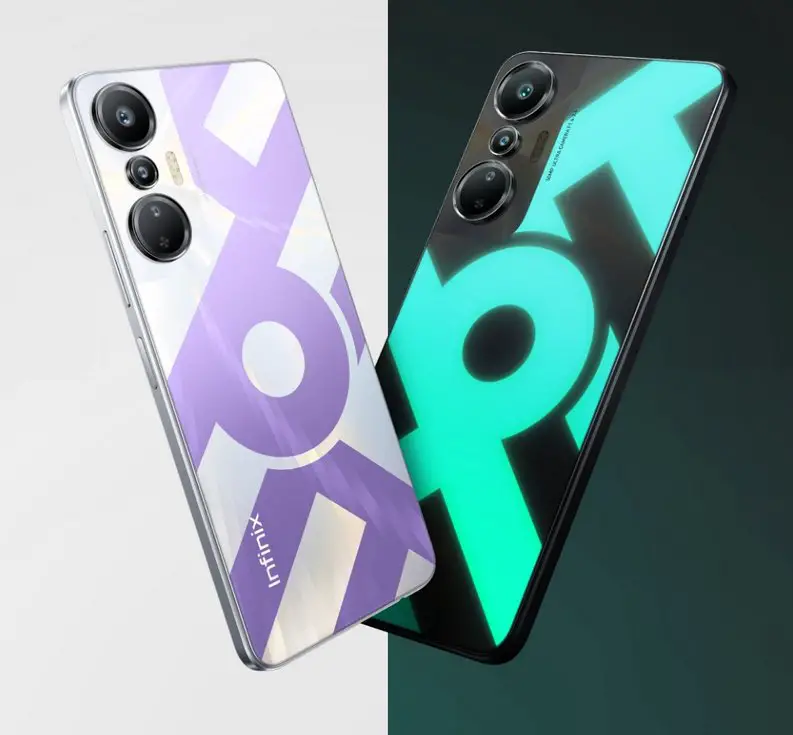 As someone who has been using the Infinix Hot 20S for a while, I can confidently say that the device delivers satisfactory performance. An octa-core MediaTek Helio G96 processor, with a Mali-G52 GPU, 8 GB of RAM, and 128 GB of storage (expandable up to 1 TB via the microSD card slot) make it a great choice for budget gaming. I was able to run games like Genshin Impact and Tower of Fantasy on medium and balanced graphics respectively, reaching close to 30FPS with stability up to 80%.
In doing so, I noticed that after playing games for a while the device warmed up slightly, but it wasn't anything too alarming. Even when I used it for everyday tasks like browsing apps on social networks or downloading files, I didn't encounter any slowdown or freezing.
Battery life is also impressive and with a 5000 mAh battery, I got 14 hours and 46 minutes of battery life with PCMark's benchmark test. The 18W USB-C charging also makes charging the device a convenient and quick process.
As far as software goes, the HOT 20S comes with Android 12 based on XOS 12, and while I appreciate the customizations of the Free Fire edition, I wish Infinix would further reduce the amount of bloatware present in it.
Overall, the Infinix Hot 20S is a great device for its price range, and the Helio G96 processor and 8 GB of RAM make it a suitable option for budget gaming. If you are looking for a phone that can handle everyday tasks and gaming, this device might be worth considering.
Battery
I have been using the Infinix Hot 20S for a few days now and I must say that the battery life has completely blown me away. With its huge 5000 mAh battery I expected it to last a long time, but I never thought it would be this good.
I decided to test the battery using PC Mark's battery tester and to my surprise the Infinix Hot 20S lasted an amazing 14 hours and 12 minutes with the screen on. This means I can safely use it all day without worrying that the battery will drain, even with light or moderate use. And if I'm an avid gamer or movie watcher, I can still enjoy the device for 6 to 8 hours or even more.
The 18W charging adapter that comes with the device is also a godsend. With it, I can fully charge the Infinix Hot 20S in just an hour and a half, which is incredibly fast for a phone of this caliber.
Overall, I am extremely impressed with the battery life of the Infinix Hot 20S. It provides enough power to last a full day of use, and the fast charging feature is a great added bonus. If you're someone who is always on the go and needs a phone that can keep up with it, I highly recommend you check out the Infinix Hot 20S.
Connectivity
I was pleasantly surprised by the connectivity options of the Infinix Hot 20S. Infinix has included all the basic features such as dual-band WiFi 5, Bluetooth, GPS, FM radio, Android Auto, HSPA+ and 4G LTE mobile connectivity, and USB Type-C with OTG. I tested all of them and they worked perfectly.
While it's unfortunate that the Hot 20S doesn't support 5G and NFC, I understand that these features may be too much for the price. However, the device still provides all the necessary connectivity options that most users will need.
In particular, I appreciate the inclusion of Bluetooth 5.0, which provides much faster data transfer speeds and better range than the previous Bluetooth standard. I was able to pair my wireless headphones and speakers with ease, and the connection remained stable throughout my tests.
I also found the rear-mounted fingerprint sensor to be a convenient and secure way to unlock the device. It responded quickly and reliably every time, and I never had any issues with false positives or false negatives.
Software
The fact that it comes with Android 12 and XOS 12 operating system is a huge plus for me. I also like that there is a special privacy and data protection analysis in the settings, which makes me feel more secure. The Smart Scenes feature is also very useful and handy as it shows events and recommendations based on my usage scenarios.
The control center is clean and easy to navigate. I especially like the large quick control buttons and the sliders for volume and screen brightness. The multi-window flash function is also a great addition as it allows me to multi-task efficiently.
One thing I do want to mention is Free Fire's dedicated interface. While it may be attractive to some, I personally find it too aggressive. Fortunately, it can be easily switched to the standard look in the settings menu.
Overall, the Infinix Hot 20S runs smoothly and efficiently, and the software is intuitive and easy to use. I appreciate the features like Power Marathon to increase battery life, and the camera app is clean and easy to navigate. The only downside is the lack of a standard photo mode, but the AI CAM feature is still decent for those who don't mind.
Price
As someone who is looking forward to Infinix's latest offering, the HOT 20S, I can say that the price of this phone is quite reasonable. At Php 8,499, it's definitely not the cheapest smartphone but worth the investment if you're looking for a budget device that doesn't skimp on features.
Conclusion
In conclusion, I have to say that the Infinix Hot 20S exceeded my expectations. As a budget-conscious consumer, I was pleasantly surprised by its impressive features and capabilities. The stereo speakers and huge display, along with the reliable battery life, make it a great device for entertainment lovers like me. I especially appreciate its aggressive dedicated interface that adds a unique touch to the user experience.
Sure, the Infinix Hot 20S isn't perfect, but it's hard to fault a device that offers so much for its price. The camera could have been better, and the mid-range processor could have taken full advantage of the fast display. However, the Infinix Hot 20S still deserves recognition for being one of the most feature-packed phones available today.
As someone who appreciates a device with an excellent price-performance ratio, I highly recommend the Infinix Hot 20S to anyone looking for an affordable smartphone that doesn't compromise on quality. With impressive features like a 6.6-inch display, triple camera setup, good performance, great battery and connectivity options, the Infinix Hot 20S is definitely worth a look.
Pros:
Attractive design and sturdy build
Large display
Good stereo speakers
Very good battery
Good performance
Minuses:
Remaining fingerprints on the back panel
Weak camera without ultra-wide mode
No 5G
Infinix Hot 20S video review
Disclaimer: The information presented in this article is based on our team's personal experience with the Infinix Hot 20S and third-party sources. While every effort has been made to provide accurate and reliable information, readers should keep in mind that this is a subjective assessment. The writing of this article was not paid for or sponsored by Infinix.