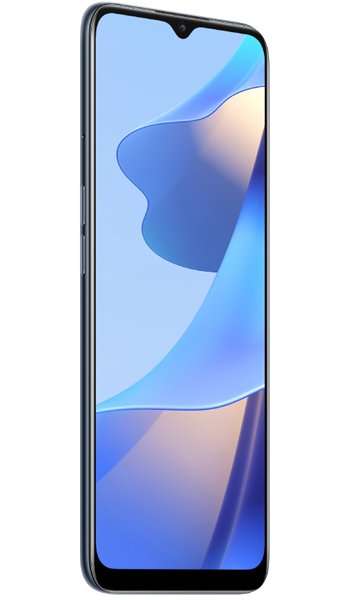 Intro
Oppo A16 is a smartphone announced in the summer of 2021. It is a representative of the budget class and will appeal to anyone looking for a device with a modern design and a range of features at an affordable price. Let us tell you more selectively what you can expect from this Oppo model.
Before reading the full review, you can familiarize yourself with the detailed Oppo A16 specs or watch the video below the article.
Design
Visually, the Oppo A16 does not look like a cheap device, as it is. The device is light, 8.4 mm thick and looks nice. Its design is concise. The front camera is placed in a slot, the frame around the screen is not too big, and on the back panel we see a triple camera positioned vertically down.
The fingerprint scanner is built into the device start button, which is located on the right side. This is a well-known place that many users are used to.
Holding the Oppo A16 in hand, it makes an impression that its rear panel is semi-matte. No unnecessary inscriptions and logos. This model will enchant you with its colors. They are three - pearl blue, cosmic silver and crystal black.
Display
In terms of screen size, the Oppo A16 will not disappoint anyone. It has a 6.52-inch display with HD resolution of 1600 x 720 pixels and an aspect ratio of 20: 9. Its refresh rate is 60 Hz, which is typical for a device in this price range. The brightness and contrast parameters are far from the record, but they are acceptable. The same goes for the pixel density per inch - 269.
The manufacturer has not installed oleophobic glass, which adversely affects the comfort when working with the Oppo A16.
Productivity
The smartphone is positioned on the combination of MTK Helio G35 processor, 3 or 4 GB of RAM and PowerVR GE8320 graphics adapter. If you use it mainly for phone calls, instant messaging and internet browsing, you will be more than satisfied. These tasks are performed quickly and flawlessly. The situation is different in games. The more resource-intensive ones will provoke a system slowdown. Ie Oppo A16 is a device on which it is desirable to play simpler games. It does not claim to be gaming.
You should know that its internal storage can be 32 or 64 GB. There is a memory card slot with which you can expand it. This is good news, given the habit of many to capture almost everything from their daily lives in a photo or video.
The device comes with ColorOS 11.1 operating system based on Android 11.
Cameras
Due to its budget, the Oppo A16 cannot offer ultra-capabilities in its cameras. However, they are good enough to meet basic needs.
The rear camera is triple. As we have already said, it is located vertically down in the upper left corner. This position minimizes unwanted contact with the lenses. The LED flash is visible right next to the sensors.
The main module of the rear camera is 13-megapixel with an aperture of f / 2.2. It is complemented by two 2-megapixel sensors with an aperture of f / 2.4, which are loaded with their tasks. One is a macro camera and the other measures the depth of the frame so that the user can create exciting photos with a bokeh effect. For best results, we recommend shooting only in daylight, preferably still subjects. Under other conditions, the probability of noise and loss of the part is high.
The front camera of the Oppo A16 in turn is a single, 8-megapixel with an aperture of f / 2.0. In either case, you can't expect miracles. With more practice and with the help of the modes and filters set in the camera application, it is possible to be able to create clearer and better photos. With the OppoA16's front and rear cameras, you can shoot videos with a resolution of 1080 pixels at 30 frames per second.
Autonomous work
The battery capacity of the Oppo A16 is 5000 mAh. In order not to discharge quickly, the manufacturer has provided an advanced mode to save charge. The installed chipset is energy efficient enough to provide about 10-12 hours of active screen time together with the battery. Records in terms of autonomous work cannot be expected. Deploy around the clock before recharging OppoA16. More moderate interaction with the smartphone, of course, will keep the charge for a longer time.
Conclusion
If you are a fan of cheap phones, OppoA16 deserves your attention. It combines modern design, light weight, screen that occupies almost the entire front panel, support for 2 SIM cards, 4G VoLTE, Wi-Fi, Bluetooth 5.0, GPS and more.
Interesting additional features are smart night charging, adaptive screen backlight and vision protection mode.
Oppo A16 video review